Slate Serving Tray with Handles Included, 10" x 18"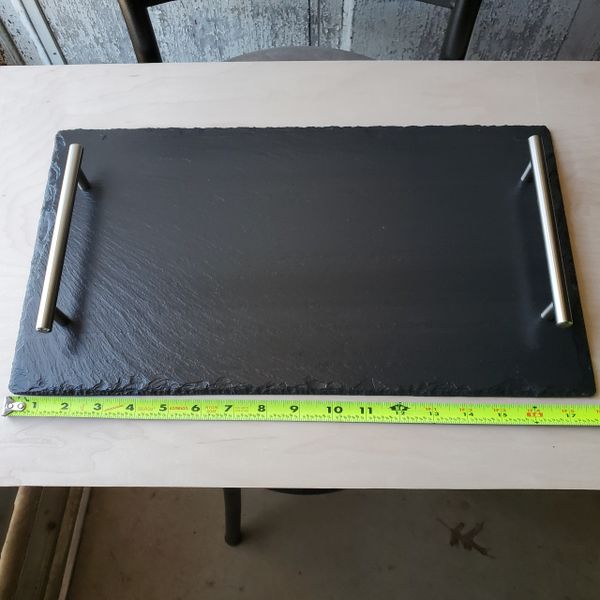 This Slate Serving Tray measures 10" x 18" (thickness will vary plaque to plaque), black in color, hand cut, roughly 1/4"+/- thick.  This Serving Tray is made from Premium grade black slate and is 100% hand crafted right here in the USA and has cleft (chipped) edges.  It is prefinished and custom engraved as ordered by the customer.  A proof will be provided PRIOR to engraving for approval if desired.  Tray ships disassembled to protect it from breakage in transit and requires handles to be attached by the customer.  A regular phillips head screwdriver is all that is needed.  All hardware is provided.
Select your preferred monogram style from the Options provided.  You will also need to provide the LAST NAME ONLY and the Est. year desired.
PLEASE REMEMBER TO DOUBLE CHECK THE SPELLING OF THE LAST NAME.  TRAYS WILL BE ENGRAVED EXACTLY AS SPELLED.
This tray is also available as a combo pack, which means it will include an additional four (4) coasters engraved just like the tray, to make this a matching set.


THIS IS A NATURAL PRODUCT AND ONE SHOULD EXPECT GREAT VARIATIONS PIECE TO PIECE.
  Please note that these will have many differences in thicknesses, textures and appearances in natural slate stone.  No two stones will be alike. 
THOUGH WE DO NOT ACCEPT RETURNS.  WE WILL REPLACE ANY DAMAGED PRODUCTS IN YOUR SHIPMENT, FREE OF CHARGE, SHOULD THAT OCCUR.
  WE ASK THAT YOU CONTACT US IMMEDIATELY AND PROVIDE PHOTOS SHOWING US THE DAMAGE, SO IT CAN BE BROUGHT TO THE SHIPPER'S ATTENTION FOR VERIFICATION.
Thank you for taking to time to review our slate products.  You'll love these slates!!