4" Square RECLAIMED SLATE Coaster CLEARANCE SALE ITEM, Free Shipping to Continental US, Alaska & Hawaii Only!!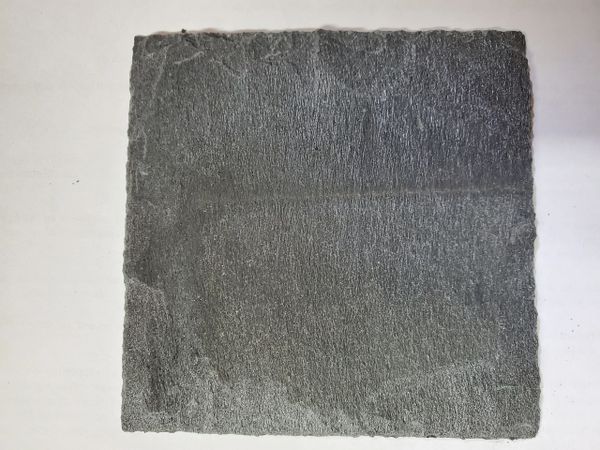 100 pc. set of 4" square coasters (thickness may vary coaster to coaster), black/gray in color, hand cut.  These coasters are crafted from RECLAIMED VA black slate made right here in the USA and have cleft (chipped) edges. Peel and stick felt feet are supplied separately in the box to be applied after engraving.
The supply of this RECLAIMED SLATE run is limited so when it is gone, it isn't available again until further notice.
NOTE:  THESE ONLY COME SQUARE SHAPED, UNFINISHED WITH CLEFT EDGES.
THESE ARE GOOD FOR COASTERS BUT STILL HAVE SOME AGED PATINA ON EITHER ONE OR BOTH FACES. 
THIS PATINA MAY CONTAIN SMALL SPOTS OF IRON, QUARTZ OR OTHER INCLUSIONS, OTHERWISE THEY ARE GOOD FOR NORMAL COASTER USAGE. 
OUR SUGGESTION IS TO APPLY YOUR OWN LIGHT FINISH COATING PRIOR TO ENGRAVING FOR THE BEST "POP" OF YOUR IMAGES.
THE PICTURES SHOW SOME OF THE WHOLE SLATES FROM WHICH WE GET THESE  COASTERS PRIOR TO CLEANING.
THIS IS A NATURAL PRODUCT AND ONE SHOULD EXPECT GREAT VARIATIONS PIECE TO PIECE.
   Please note that slate will have many differences in thickness, texture and appearance.  No two stones will be alike. 
PLEASE NOTE:!!! FREE SHIPPING APPLIES TO ORDERS GOING TO THE CONTINENTAL U.S., HAWAII AND ALASKA ONLY!!!



WE DO NOT ACCEPT RETURNS ON CLEARANCE SALE ITEMS.
Thank you for taking to time to review our slate products.  You'll love these slates!!