4" x 6" Slate Plaques, FREE SHIPPING to the Continental U.S., Alaska and Hawaii ONLY!!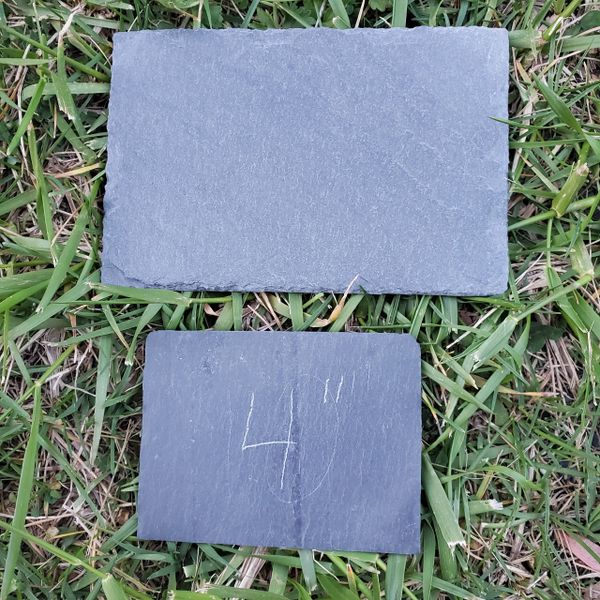 Choose from a 10 pc., 50 pc., or 100 pc. box of  4
" x 6" slate signage (thickness may vary piece to piece), black in color, hand cut, roughly 1/8" - 1/4"+/- thick.  These slate plaques are great for bridal party table signage or small plaques engraved with inspirational sayings to have around the home.
These slates are hand crafted from Premium Grade black slate right here in the USA and have either cleft edge (CHIPPED) or a smooth edges.
Choose either unfinished or prefinished plaques.  They 
are ready to be engraved with your laser or printed onto directly with your UV printer.
THIS IS A NATURAL PRODUCT AND ONE SHOULD EXPECT GREAT VARIATIONS PIECE TO PIECE.
  Please note that these will have many differences in thickness, texture and appearance.  No two stones will be alike. 
PLEASE NOTE: THE FREE SHIPPING OFFER APPLIES TO ORDERS GOING TO THE CONTINENTAL U.S., HAWAII AND ALASKA, ONLY!!!
THOUGH WE DO NOT ACCEPT RETURNS.  WE WILL REPLACE ANY DAMAGED CONTENTS IN YOUR SHIPMENT, FREE OF CHARGE, SHOULD THAT OCCUR.
  WE ASK THAT YOU CONTACT US IMMEDIATELY AND PROVIDE PHOTOS SHOWING US THE DAMAGE, SO IT CAN BE BROUGHT TO THE SHIPPER'S ATTENTION FOR VERIFICATION.
Thank you for taking to time to review our slate products.  You'll love these slates!!