Black Slate Serving Tray Sets with Handles INCLUDED!! FREE SHIPPING to Continental US, Alaska, & Hawaii Only!!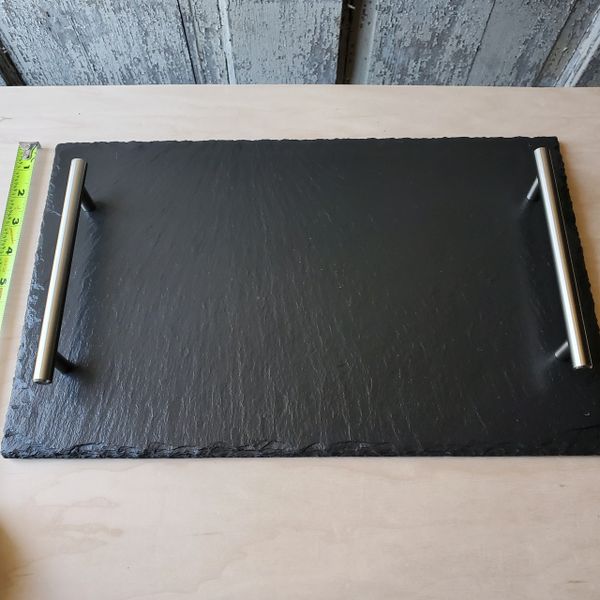 These are hand cut slate serving trays, roughly 1/4" thick.  These serving trays are handcrafted with cleft (chipped) edges. Buy one tray at a time or in packs of 5.
These are "finished" with lacquer.  The pictures show lacquered trays.  The picture with the Slateworx, LLC logo is just to show engraving results on the lacquered trays.  Trays come without this logo engraving.

These are ready to be engraved with your laser, sandblaster, CNC router or printed onto directly with your UV printer. These come without the handles attached to prevent damage during shipment and to facilitate ease of customization.  Handles are easily attached with a phillips head screwdriver.

These trays have Stainless Steel barrel handles INCLUDED as seen in the pictures!!
THIS IS A NATURAL PRODUCT AND ONE SHOULD EXPECT GREAT VARIATIONS PIECE TO PIECE.  The handles come with four black plastic screw covers that you can apply when you install them.  We do not install the handles prior to shipment to keep the handles and slate from being damaged during shipment plus the handles are out of the way for ease of customization.
Please note that there are many differences in thicknesses, textures and appearances in natural slate stone.  No two stones will be alike.