Seascape Coaster Holder kit, FREE SHIPPING!!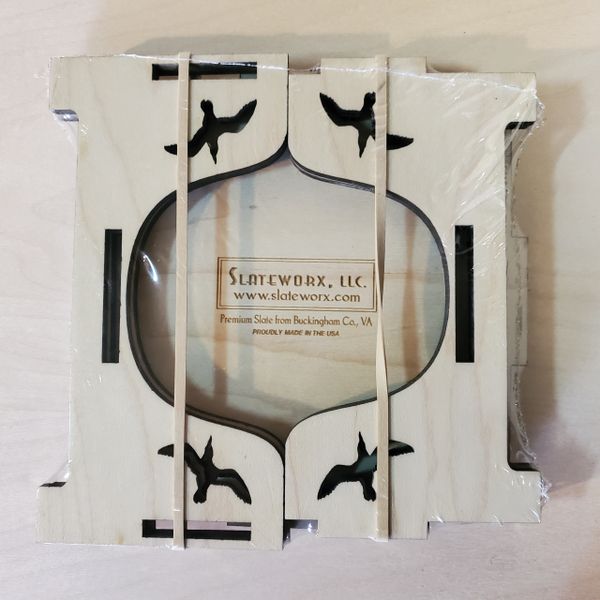 This is for the COASTER HOLDER ONLY!!  It requires assembly.  NO COASTERS ARE INCLUDED!!  THE PICTURES SHOW COMPLETED VERSIONS OF THIS KIT WITH COASTERS FOR ILLUSTRATION ONLY.  COASTERS ARE SOLD SEPARATELY. 
WE OFFER 6 DIFFERENT KITS THAT DO INCLUDE THE COASTERS IN OUR STORE IF THAT IS WHAT YOU WANT.  
All pieces of this kit are reversible and can only fit together one way.  Applying a very small amount of glue to the joints will lock this together for a secure and beautiful way to keep up with your coasters.  

This kit includes two rubber bands to keep the holder together while the glue sets up.  We recommend using Titebond Quick & Thick Multi-surface glue, as it dries clear and is sufficiently strong.
This holder can handle 4 coasters of a max width of 4" x 4", either round or square.
This can also be used for holding other items as needed.  The seagull accents make it extra cool, especially when matched with sea shore themed engraved coasters.
We will be posting an assembly video in the near future as well as the file for this design, that can be purchased separately.  That way, you can cut your own with your laser.  In the meantime, call us if you need assembly tips.  We'll be glad to help you out.
This kit has the Slateworx logo on it.  If you want this holder without our logo, let us know in your order details, and we will leave that off.